CORPUS CHRISTI, Texas — After a long week, this weekend couldn't have come any faster. It is time to have some fun.
SATURDAY EVENTS
The Best Little Whorehouse in Texas at Aurora Arts Theatre
Over at the Aurora Arts Theatre (5635 Everhart Rd.), the cast and crew of 'The Best Little Whorehouse in Texas' have already opened to a string of sold-out performances.
This production is based on the true story of a legendary Texas brothel known as the Chicken Ranch, which operated from the 1840s to 1973. Protected by a friendly Sheriff and frequented by politicians, football teams and others, the Chicken Ranch thrived in the small town of Gilbert, Texas. Girls come from all over to work at the ranch and make a little extra cash. However, a crusading Houston radio commentator and his conservative audience eventually expose the Chicken Ranch, forcing it to shut its doors forever.
Tickets are still available for the August shows, which begin at 7:30 p.m. each Friday and Saturday, with Sunday matinees at 2:30 p.m.
Get your tickets by calling (361) 851-9700 or visiting www.auroraartstheatre.com .
---

Hurricane Alley Roller Derby vs The Big D Roller Girls this Saturday
The Hurricane Alley Roller Derby team is kicking off their season, taking on the The Big D Roller Girls this Saturday.
The match up starts at 6 pm at the Marvin and Laura Berry Pavilion at the Richard M. Borchard Regional Fairgrounds.
"Roller derby is an indoor contact sport plated on a flat track by two teams of five members roller skating counter-clockwise around a track," their event page says, "Roller derby is played by approximately 1,250 amateur leagues worldwide, mostly inside the United States."
Adult General Admission will be $15, children get in for $10, and children under 3 are free.
The Hurricane Alley Roller Derby Team, also known as H.A.R.D., has been bringing the HARD hits since 2005. They have a game every month until October. Here is a look at there upcoming schedule:
Aug 24 vs Team Free Radicals
Sept 21 vs No Label Society
Oct 12th vs Machete Betties all Star
Don't miss out on the hard hitting action!
---

FREE FUN at Corpus Christi's Parks and Recreation Festival
The Parks and Recreation Department is throwing a big bash to celebrate summer!
The department has a whole list of FREE fun planned for our local residents.
"Come join us for a FUN filled day in celebration of Parks and Recreation Month! Games, prizes, food, entertainment, moon jumps, pie eating contest, and local vendors," their event page says.
On top of all that free fun, the Natatorium will have a free swim.
"Did we mention FREE swim at the Natatorium from 10AM-12PM! Let's make this the #BESTSUMMEREVER"
their event page says.
The event lasts from 10 am to 1 pm this Saturday, July 26 at 3202 Cabaniss Parkway.
---

SUNDAY EVENTS
House of Rock celebrating 14 years of rock
A local downtown staple is celebrating their 14th anniversary this Sunday.
For 14 years, the House of Rock has been providing the good people of Corpus Christi with awesome music shows. They also have fantastic drinks, food, and the most welcoming staff around!
You can come by early this Sunday and enjoy their chicken, waffle, and Bloody Mary bar from noon to 3 pm with no ticket purchase necessary. Fundaze will be providing the brunch tunes. Then, in the evening, David Beck's Tejano Weekend, Mobley, Sweet Daddy, The Oddfellas, and Kinsmen will be jamming out.
Tickets for the evening show are $10. You can buy them here.
The whole thing goes down at 511 Starr St, Corpus Christi, Texas 78401 from noon to 11 pm.
---
Swap seeds and prepare your fall garden at the learning garden
The fall gardening season is coming up and The Learning Garden at Tom Graham Park wants everyone to be prepared.
Local gardeners will be gathering this Sunday, July 28, from 6 pm to 9 pm. Their goal is to swap seeds with other local gardeners and start planting.
"We will be coming together to swap seeds with friends," their event page says, "plant seed starts in our newly refurbished Hoop House."
The gardeners always have a plan for the fall planting season, because only certain things grow during this time of the year.
"Seed starting will begin with Tomatoes, Peppers and Eggplants in July followed by Cabbage, Brussels Sprouts, broccoli and cauliflower in August," their event page says.
All ages and skill levels are invited to the event at 3808 Up River Rd, Corpus Christi, Texas 78408.
A community that gardens together, grows together.
---
Do yoga for a good cause at the Buti and Brunch Summer Series
Yoga Time Studios and BUS have teamed up to give back to the community during the long hot summer months.
They started a FREE Buti Yoga series spread out for five different Sundays, and they are accepting donations for a select local non-profit for each session.
"Buti Yoga combines dynamic asana, deep abdominal toning and cardio-intensive dance," their event page says, "Our Buti classes utilize the spiral structure technique to facilitate the release and toning of the body - physical, emotional and energetic."
Erica Rose Bertero, Leah Bess Murray, Morgan Lang and Stephanie Stinson are in charge of the sessions and they want everyone to know that these sessions are for all ages and skill levels.
So far they have already benefited the Children's Advocacy Center of the Coastal Bend and the non-profit for this Sunday is shelteramutt.inc; a non-profit committed to the shelter and transport of the lost, left behind, abandoned, neglected, starved and homeless canines and kitties of the Coastal Bend.
Here is a breakdown of the rest of their sessions: August 4 to benefit Communities In Schools of the Coastal Bend and August 11 to benefit Live n Leap.
Participants are encouraged to bring their bestie, a yoga mat, small towel, and water! If you don't have a mat they have some extras.
Get there early for the a class demonstration and how-to at 10:45, and the class will officially start at 11 am at 702 N. Chaparral St., Corpus Christi, Texas 78401.
---

Free Admission to Schiltterbahn on select days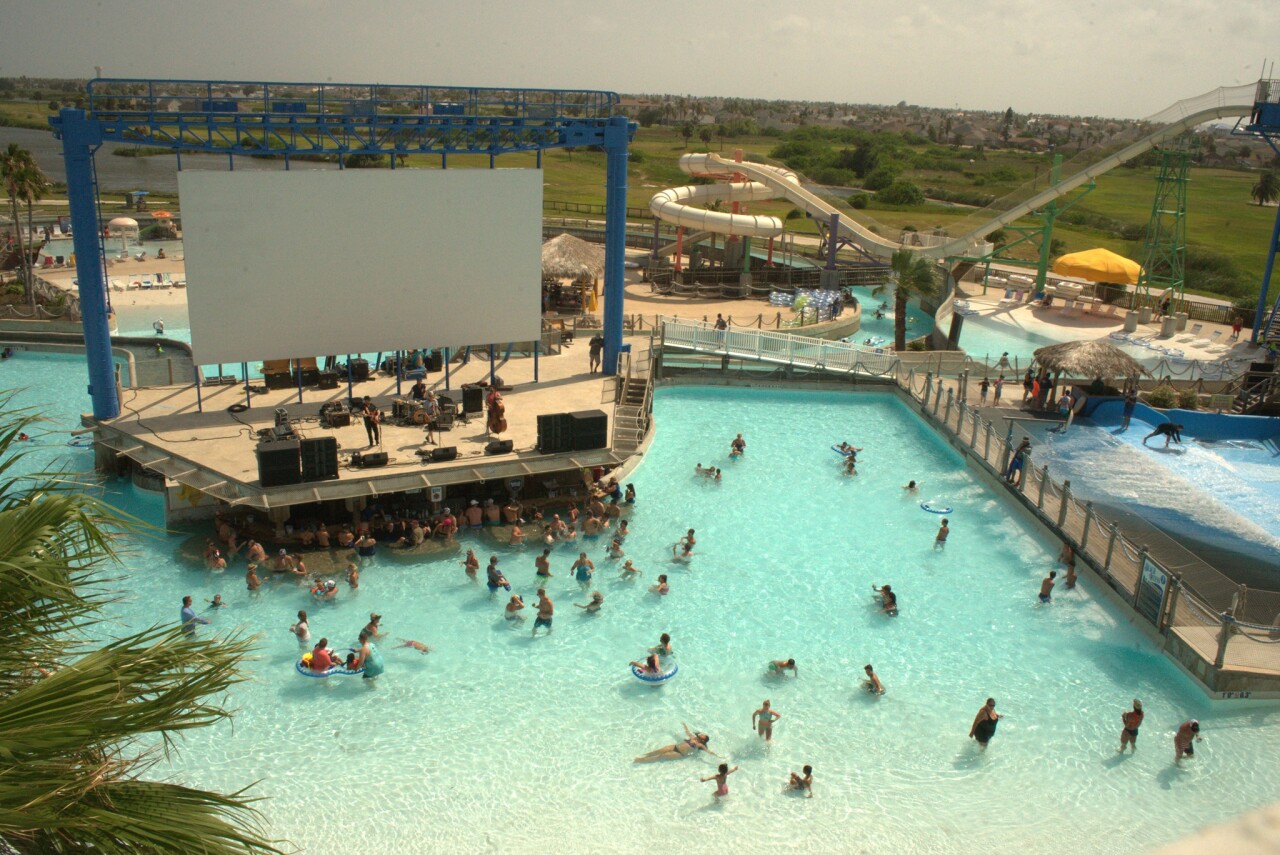 Waves Resort in Corpus Christi is having a pool party and you are invited.
Admission will be waived after 6 pm this Sunday, as well as every Wednesday through Sunday until August 18.
Music will be provided by their resident DJ at their outdoor theater while you enjoy some cocktails at the swim-up bar.
The Park is located at 14353 Commodores Dr, Corpus Christi, Texas 78418 and the event lasts from 6 pm to 9 pm.
Only select areas of the park will be open during the event.
---