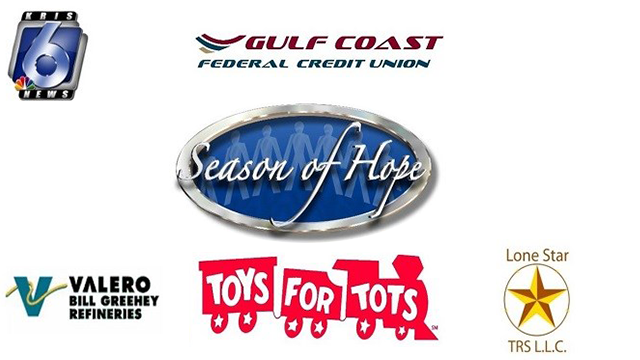 Season of Hope is a partnership with KRIS Communications that helps Toys for Tots drive a community-wide effort to collect toys during the holidays.
The primary goal of Toys for Tots is to deliver, through a new toy at Christmas, a message of hope to less fortunate youngsters that will assist them in becoming responsible, productive, patriotic citizens.
---
Please donate at any one of our sponsor locations or come by our community set at La Palmera Mall located in the food Court. Donation toys must be new and in original packaging:
Gulf Coast Federal Credit Union
2633 Rodd Field Road, Corpus Christi, TX 78414
4677 S. Staples St., Corpus Christi, TX 78411
1909 E Main St., Alice, TX 78332
---
1147 Cantwell Ln, Corpus Christi, TX 78407
---
---
Online - corpus-christi-tx.toysfortots.org/
---
Frequently Asked Questions concerning Toys for Tots
1) Has my application been approved?
If someone signed up through the Toys for Tots website the applications will remain in a pending status until they arrive the day of pickup and organizers are able to verify identity and qualifications using provided documentation. Documents include ID, SSN, Birth Certificate, Address verification, & proof that they are on some form of Govt assistance. (IE: housing, WIC, Stamps, ETC.)
2) What are the days of distribution?
Toys for Tots distributes to non-profits and organizations on December 14th-17th. Those organizations have their own schedules and locations for distribution for residents.
Those who have pre-registered and undergone verification with Toys for Tots (not another non-profit or organization) during signups at the malls will receive items on December 18th or 19th from 10am to 8pm. Those who pre-registered will still need to bring a form of identification to the Sunrise Mall location.
If you signed up online, but still need to be verified, bring documentation (as described above) on December 18th and 19th to the Sunrise Mall location.
3) I missed all the signups, can I still signup?
Yes, but the late sign ups in person are on a first come, first serve basis in the Sunrise Mall location. Anyone showing up for the late sign ups on the days of toy distribution must wait until all pre-registered persons, non-profits, and organizations receive their items.
You will need to bring documents to be verified. Toys for Tots already has an obligation to assist approximately 19,000 families that pre-registered during the Oct 1st -Dec 1st time frame.
4) Will my older teenager receive toys?
Toys for Tots will attempt to fulfill requests with age appropriate gifts with the limited supplies available for teens over 14 years old. However most of the items donated or purchased through the program are for children age 14 and younger.
5) Can my child get a bike?
Bikes are commonly requested items through the Toys for Tots program. Unfortunately, we cannot fill special requests for certain items due to the limitations of donations to the program.
6) I want to make a donation. What items will help Toys for Tots right now?
We definitely appreciate efforts to donate items directly to Toys for Tots, through affiliated charities, or businesses in the area showing their support.
Donations are greatly needed for the following age/gender groups:
0-3 toddlers
6-8-year-old girls
7-9 year-old boys & girls
12-14-year-old boys (we are okay on sports equipment for now)
Toys for Tots does not accept donations of clothing or food baskets. Other charities can handle those items.
7) Can I register for Toys for Tots through multiple organizations?
No. Due to the limited number of items donated versus the number of people requesting assistance, duplicate applications are not accepted. We share our request databases with multiple charities and track who may have registered more than once unintentionally or is trying to misuse the system. We appreciate your patience.